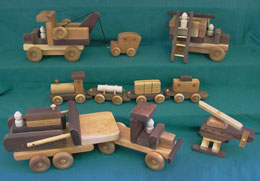 Welcome to our Made in Montana, USA, handmade, quality, classic childrens wooden toys. All of our handcrafted wood toys, made by D and ME LLP, provide hours of imaginative play for toddlers and children of all ages.

A TESTAMONIAL!

"Just want to thank you both so much for your supreme quality toys and service! The farm tractor and wagon along with the lowboy trailer, truck, and dozer were exactly what I was looking for when I started shopping for my grandson. They were a hit with the entire family! Santa has already decided to do his shopping with you this year! Thanks again! Kathy (from Montana) in Washington"

Thank you for shopping with us.

Because of the recent China toy recalls, we want to assure you that all of our toys are made by Don and Mary in Stevensville Montana, USA. The colored pieces are a water-base, child safe toy enamel applied by a factory in the United States (certificates available). All of our wood comes from sustainable forests in the United States. The oiled finish we use is also on the "safe substances" list.

ANNOUNCEMENT! We are now offering the option of ordering organic or natural handmade wood toys. These wooden toys will be shipped without our oiled finish.

In our D and ME Logging Category you will find:

Included in our Childrens Small Wooden Trucks are:

Under Large Wood Trucks are three catagories:

Mary works the camera and Don has the artistic eye to "see" the potential picture.

To get wholesale information on carrying our classic handmade wood toys or our country style handmade quilts for your business, click on Wholesale Information to fill out our request form.